Renting With Pets:
Tips To Help You Find Pet-Friendly Housing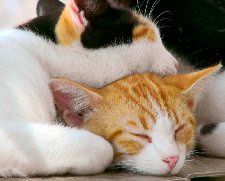 If you've tried renting with pets before, you know that many apartments, condos, homes, or other rentals do not allow pets. When searching for a new place to call home, look for those with pet policies in place -- as well as those that don't mention pets at all (you might be able to convince a new landlord to rent to you if you're a responsible tenant and pet owner).
When renting with a pet:
Give yourself lots of time to search for an appropriate apartment (condo, townhome, house...). Many rentals will not allow pets. By starting early you'll be able to ensure both you and your pet a home. Places you can look include:

For pet-friendly apartments in the maritime provinces / Atlantic Canada, try this site.
Local newspaper & magazine ads.
Local internet websites.
Use a rental agency to assist you in locating housing that allows pets (check your Yellow Pages).
Ask local pet rescue organizations or humane societies if they have any tips.
Pick up the phone and call. Even though some places don't explicitly state that pets are allowed, they might permit a pet on a case-by-case basis. It doesn't hurt to ask... the worst they can say is 'no'!

Be a responsible owner. You're not just representing yourself... you're representing other pet owners, too! For instance:

Teach Fido not to bark excessively, and teach Fluffy to use the scratching post instead of the furniture or walls.
Tell the landlord that you're a responsible pet owner and emphasize that you're considerate of other tenants in the building. Let him or her know that you'll pick up after your dog. Bring documentation that will show him what a conscientious pet owner you are (see below).
Keep your pet's vaccinations up-to-date and be able to provide organized health records.

Note: if you're moving far from home, it's a good idea to check with your veterinarian to see if there are any health concerns for your pet. For example, if you live in Alberta you don't worry about flea control or heartworm pills. If you were to move to most parts of BC, it's something you would have to handle.

Anticipate a landlord's concerns. For instance, if you are moving to an area where fleas are a concern, put your pet on an approved flea-control program and let potential landlords know that you have done so.
Communicate openly and honestly with a potential landlord. State your case. Be friendly, not defensive! Landlords don't necessarily "hate" pets or have anything against them... but they may have had bad experiences with them in the past (or have heard horror stories from other landlords), or may simply be inexperienced with allowing pets.

Indicate how responsible you'll be, both as a tenant and as a pet owner. If you have letters of reference from previous landlords, don't be afraid to show them too. And bring pictures! It helps the whole process seem more personable.

Do not try to sneak in a pet. It just adds to a landlord's reluctance to allow pets in the future.

Offer a meeting. Not every landlord will want to meet a pet, but give him the option of doing so. Seeing a well-behaved pet for himself may help to put the landlord's mind at ease.
Be flexible. Chances are, if you're on this site, you consider your pet to be a part of the family. You will probably have a certain set of features you'd like to see in your new rental... but keep in mind that people with pets have fewer choices. You may have to rent a place that's not quite your "ideal" apartment - but in return, you'll be able to keep your pet with you!

Your best options are to search for places that have pet policies already in place; those that don't mention pets at all (instead of stating "no pets"); or small / single units from private owners who may be more willing to accommodate you if you can demonstrate that you'll be a good tenant.

Get letters of reference - yes, for your pet, too! Letters from previous landlords are great... ask them to state what good tenants both you and your pet were, and how or why a new landlord should rent to you.

Veterinarians can write reference letters stating what a responsible pet owner you are and how you ensure your pet always receives regular and appropriate medical care.

You can also include letters from pet-sitters, neighbours, dog trainers, etc.

Don't be shy in telling potential landlords if your pet has had obedience training, or is a therapy dog, or has some other special type of training. It will help to put the landlord's mind at ease.

Get it in writing. Once a landlord has accepted your pet, make sure it's written into your lease or contract and signed by both you and your landlord. As a minimum, your lease should state how many pets you can have and of what type. If there are extra fees, make sure that's written down too. Ask for a copy of the "pet rules".

If the lease states that no pets are allowed, but your new landlord says it's okay, get it in writing anyways. Cross out the "no pets" clause, and write in your own. You and your landlord should both sign it. Make sure you make the same changes on both your copy of the lease and on your landlord's copy of the lease.

Get permission before adopting a new pet. Even if it's not written into your lease, it's always a good idea to get permission prior to bringing home a new pet. It just helps to avoid undue stress!
Please... if you cannot immediately find housing that accepts pets, do NOT abandon your pet in your old rental unit in the hopes that someone else will find and care for him, or in the hopes that you'll be able to "come back" later and get him. Pets depend on us for their care.
Instead, consider renting one of the many short-term pet-friendly accommodations, such as Bed & Breakfasts, hotels, cottages, and so forth. Ask them for their best rate for an "extended stay". This will allow your pet to stay with you while giving you the chance to find appropriate long-term housing.
If you must temporarily leave your pet behind, do so with a responsible, reliable, and trustworthy person or organization. Check in regularly to ensure your pet continues to be well cared for.
When renting with pets, a little flexibility and preparation can go a long ways in finding (and keeping!) a great pet-friendly apartment or home.
More for renters with pets: