Creating a Pet Resume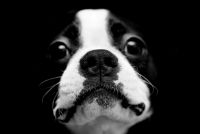 You know your pet is wonderful (ok, maybe you're biased, but he's still pretty great). A new landlord, however, doesn't know your pet at all -- nor does he know you or what type of pet owner you are. A pet resume can help provide this information to a potential landlord.
When applying for an apartment (condo, townhome, house...), bringing photos of your beloved pet is a nice way to add a personal touch... but you can take it one step further to help put a new landlord's mind at ease.
What Goes Into a "Resume" for Pets?
Ok, maybe "resume" is too big a word. But a brief bio sheet can go a long ways. Include information that a landlord may want to know before accepting your pet, such as:
Pet's name, type of pet, breed, age, and sex. If your pet is spayed or neutered, say so.
A brief description of your pet's temperament:

"Pookums is a friendly dog who loves people. His favorite activities are napping in the sunshine and eating. He also enjoys daily morning and evening walks with his person. Pookums is reliably housetrained and has lived with his person for five happy years."

A brief profile of you! This is just as important, since landlords rightly want to rent to responsible tenants:

"Pookums' person walks him regularly, believing that a tired dog is a happy dog! He cleans up consistently after Pookums. He ensures Pookums' vaccinations are always up-to-date and brings him for veterinary care as required. Pookums accompanies his person on all holidays.

A photo.
Reference letters from vets, previous landlords, dog trainers, pet-sitters, neighbours, etc.
Copies of up-to-date vaccination records.
While a pet resume may seem like a strange idea, it can really help to showcase why you and your pet would be ideal tenants. Renting with pets can be a challenge - and you'll be competing against many other applicants too - so anything you can do to help you to stand out from the crowd will better your chances of securing a great pet-friendly home.
More for renters with pets: