Drafting a Pet Application Form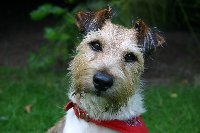 Landlords may wish to request information about the pets that would be living in the rental unit. Provide the potential renter with a simple pet application form. If the rental unit is part of a larger dwelling, like a condominium complex, there may be a specific form that the board of directors or management company (or whomever is in charge of the dwelling) would like renters to use instead, for approval of the pet.
Pet Owner's Name/Rental Unit
Request the name(s) of all of the pet's owners who would be residing in the unit. Note that not everyone in the unit may be responsible for the pet, eg. in a roommate situation.
Pet's Name
Knowing the pet's name isn't a frivolity. In case of emergency, when the landlord (or someone with permission of the landlord) must deal with the pet, knowing the pet's name may make it easier to connect with the pet as well as make the pet feel safer.
Type of pet/breed
Note that some municipalities have breed-specific legislation that bans certain dog breeds from living within that municipality. Laws may also be in place that requires dog owners of certain breeds to comply with a set of rules, such as muzzling.
Age, sex, and neutered/spayed
Some landlords prefer not to accept puppies or kittens due to the typical chewing / clawing / experimental phase that most young animals go through. However, young pets could be kenneled whenever unattended, or landlords (depending on local laws) may be able to request a larger damage deposit.
Photo or brief physical description of the pet(s)

References
Ideally, references from a variety of people who have first-hand knowledge of the potential tenant and his or her pet. This can include veterinarians, previous landlords, pet-sitters or dog walkers, dog trainers, etc.
Name/number of veterinarian
For emergency purposes.
Emergency contacts
Request the mobile phone number for the pet owner(s), as well as at least one other person who can be contacted in case of an emergency.
Here is a list of questions to ask potential renters with pets. This list can help landlords assess how the tenant handles his or her pets and whether they will be a good fit for your rental unit.
More for Landlords Considering Accepting Pets: