Renting to Responsible Pet Owners:
A Checklist for Landlords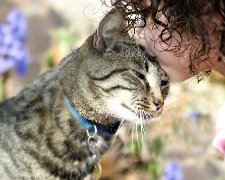 Responsible pet owners often make great tenants. They know how difficult it is to find good pet-friendly housing, so they tend to be very conscientious about keeping the unit clean, appropriately managing their pets, and following the rules. Here are a few questions to help landlords assess a potential renter with pets.
General Questions for Renters With Pets:
What types of pets do you have, and how many?
How long have you had your pet(s)?
Is your pet spayed or neutered?
Is your dog housetrained / Is your cat littertrained?
How will you keep your pet free of fleas and ticks?
Is your pet licensed (if required by law)?
Does your pet wear visible identification at all times?
Is your pet appropriately vaccinated?
Does your pet have any medical or behavioral problems? If so, how do you manage them?
Can you provide a reference letter from your current landlord?
Can you provide a reference letter from your veterinarian?
Have there ever been any complaints about your pet?
Has your pet ever damaged a rental unit? If so, what type, and did you fix or pay for the damage?
How will your pet be cared for while you are away on holidays?
Questions for Dog Owners:
Has your dog had any formal obedience training?
Has your dog ever bitten anyone, either human or another animal? If so, what were the circumstances?
Does your dog have separation anxiety, and if so, how do you manage it?
How would you describe your dog's tendency to bark? (rarely or never barks, barks once in a while, vocal) Does your dog bark while you away from home? Will he stop barking on command?
Have you ever received noise complaints about your dog?
How many hours will your dog spend alone each day, on average?
Will you keep your dog leashed in common areas such as hallways or property grounds?
How do you dispose of your dog's waste when walking him?
Questions for Cat Owners:
(If required by law) Is your cat licensed?
Is your cat an indoor cat? If not, how will you ensure he does not disturb other residents?
How will you deal with excessive meowing / yowling / other noises?
Where do you intend to keep the cat's litter box and how often will you clean it?
Note: in general, "exotic" animals are not suitable as pets.
Drafting a Pet Application Form
Landlords should request basic information about the pet(s) who is going to occupy the rental unit. Here are some guidelines about drafting a pet application form.
Specific Rules for the Rental Unit
Landlords should explicitly address any specific pet rules applicable to the building or the dwelling with the potential tenant. Should both the renter and the landlord agree, then these rules should form part of the rental agreement and signed by both parties.
More for Landlords Considering Accepting Pets: