Renting to People With Pets
It is not an easy decision to choose to allow pets. Maybe you have even heard some horror stories about the damage pets have done to rental units. But there is another side to the story: many landlords who have chosen to make their units pet-friendly can attest to having wonderful and responsible tenants. Likewise, many tenants with pets are conscientious, reliable and responsible people whose choice to have pets doesn't change that at all.
Here is some information that will help to demonstrate why adopting a pet-friendly policy can be beneficial to landlords.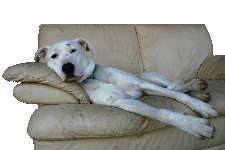 How Adopting a Pet-Friendly Policy Benefits You
Common Concerns About Accepting Pets
Drafting a Pet Application Form
Renting to Responsible Pet Owners: A Checklist for Landlords
Pet-friendly apartments and other rental housing are a much-needed resource!
Renters consider their pets to be family, and will not leave them behind. Rental units that don't allow pets are simply not going to be part of those they consider.
Renters who are clean and tidy people are simply clean and tidy people who happen to have pets as well. Having pets doesn't automatically mean that the tenant will allow the rental unit to become a mess.
People sometimes travel for business for months or even years at a time. They understandably don't want to leave their pets behind for prolonged periods, and so they seek out pet-friendly rental units for the duration of their work contract.
Relocation can be difficult on families with pets too. They may need rental accommodations until such time they're able to find and purchase a home.
As a landlord, you hope to be able to find a great tenant. Opening up a rental unit to renters with pets means opening it up to a much wider range of potential tenants.